An Interesting Bogging Saga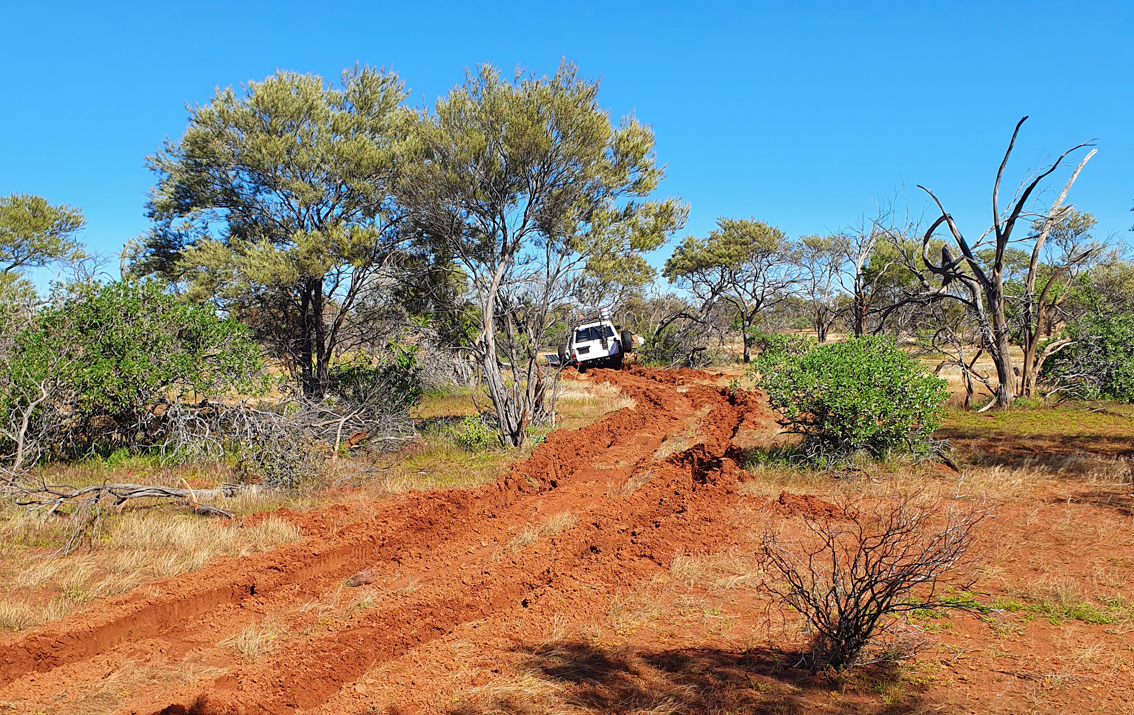 It was May 27th this year (2021) when we (Terry and Barb) left our place in the South-West of WA to embark on our winter driving trip that would take us to the Kimberleys.
We decided to go a roundabout way and visit some of the historical settlements on our journey. Our first accommodation booking in Broome wasn't until the 7th of June, so we had plenty of time to wander around.
In the week leading up to our departure from home, phone enquiries were made with the Murchison Shire as to any possible road closures or other issues that could happen. Planning to go through there, we were advised that the Mullewa to Carnarvon Road was expected to be open with no plans to close it within our timeframe.
Thursday May 27th – First night we found a spot to camp at Willroy Nature Reserve and had a pleasant night.
Friday 28th – We headed up along the Mullewa-Carnarvon Road. We dropped into the Murchison Roadhouse and checked out their amazing Museum that is run by volunteers. Before leaving the roadhouse, we further enquired about the road ahead. As we were asking, we were shown the live BOM map showing all of that whole part of the state was clear, so figured it should be okay to camp overnight, somewhere along the way.
Mid-afternoon, Friday on the Mullewa-Carnarvon Road we started looking for places to pull off and camp for the night. Finding tracks in that appeared to be from a truck we curiously left the road and continued further in two-wheel drive, easily with tyres fully inflated and found the most amazing spot where we set up camp with our OZ tent. It was warm, balmy and just perfect with no sign of what was about to unfold.
Saturday 29th – The next morning at 5.15am all hell broke loose! Thunder, lightning and torrential rain and we had no idea of the predicament we were about to be in. Mid-morning, we decided we may as well pack up and see if we could get ahead of the weather.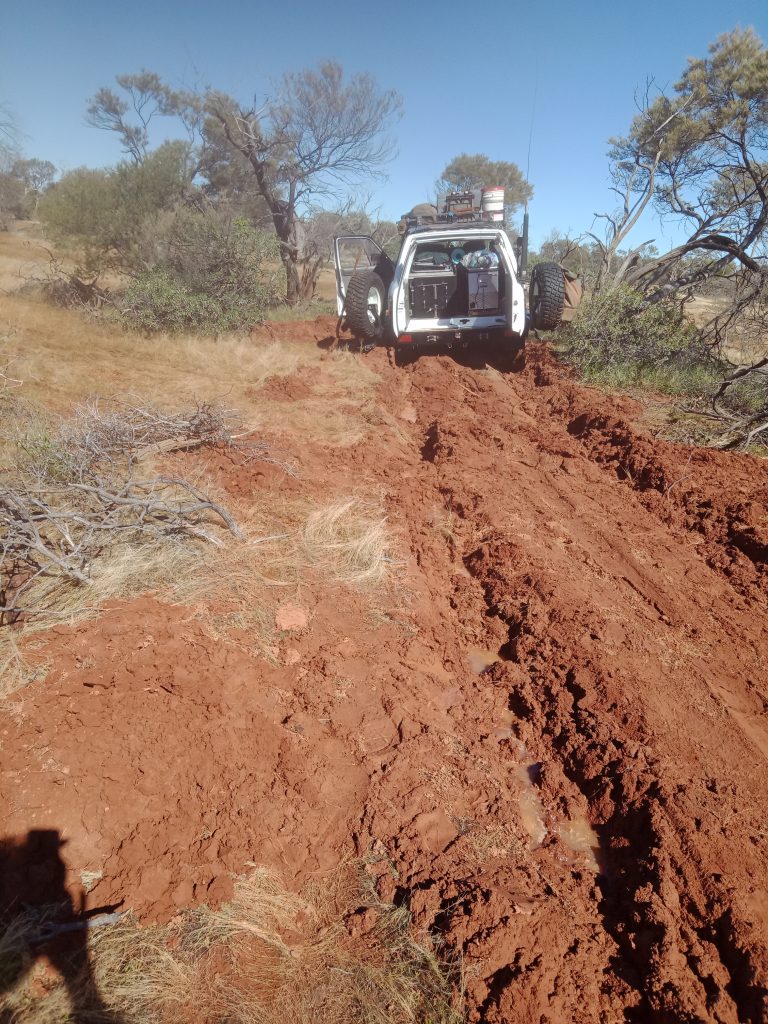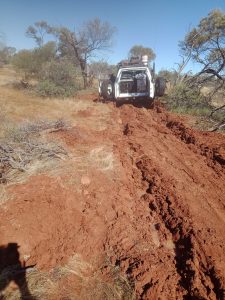 Taking off it soon become apparent the ground was becoming very boggy. After many winches, tyres deflated and continuing to sink we decided to winch onto high ground around mid-afternoon and re-assess the following day. We knew the main road was about 200 metres from where we were at that point in time and after all that day trying to get out, on looking back we could still see the place we had camped the night before.
In the meantime, Barb decided to go for a walk to see if she could see the main road. She found the more indirect track we came in on, that at that stage may have been accessible but the car was now immobile facing another direction, so we had no choice but to see what would unfold tomorrow.
Cold, wet, covered in mud and shivering, we slept upright inside the cab of the car that night as the torrential rain continued to pour down all night. Several attempts to get out the car ended in nothing but mud slides.
We said to ourselves on many occasions throughout our ordeal, that we wished we'd had MAX TRAX on board and when we got out of here, they were going to be very much on our to do list.
Sunday 30th – We woke up with the car in a lake of water as far as the eye could see. With Friday night's camp area still visible on high dry ground in the distance, we did the obvious and carried the tent and set it up. We knew then it was going to be a wait-it-out situation until the ground was solid enough to drive ourselves out.
That same day, re-visiting by foot the original track we came in on and had seen on Saturday afternoon was a bit of a shock. What we could have driven out of on Saturday (had we not already been bogged 200 metres in another direction) was now unrecognizable. As we waded through, it was all underwater with trees sticking out of the water and mist rising towards the canopies of the trees, like something out of an eerie movie.
Terry put in a highwater stick to mark the level of water that the car was in so we could observe it over the coming days. Following that we spent days re-assuring ourselves we were not going to do anything stupid. We would get out, we just didn't know how long it would take.
We walked back and forth to the car to fetch items as we needed them, readjusting the solar panels on the roof to keep power up to the auto batteries and the fridge, still sitting in the car. We also spent time walking out to the road on the track we came in on to monitor the water levels. Thongs on the feet simply didn't work here. They acted like suction plugs, we got sick of digging them out of the mud and after breaking them, we reverted to bare foot.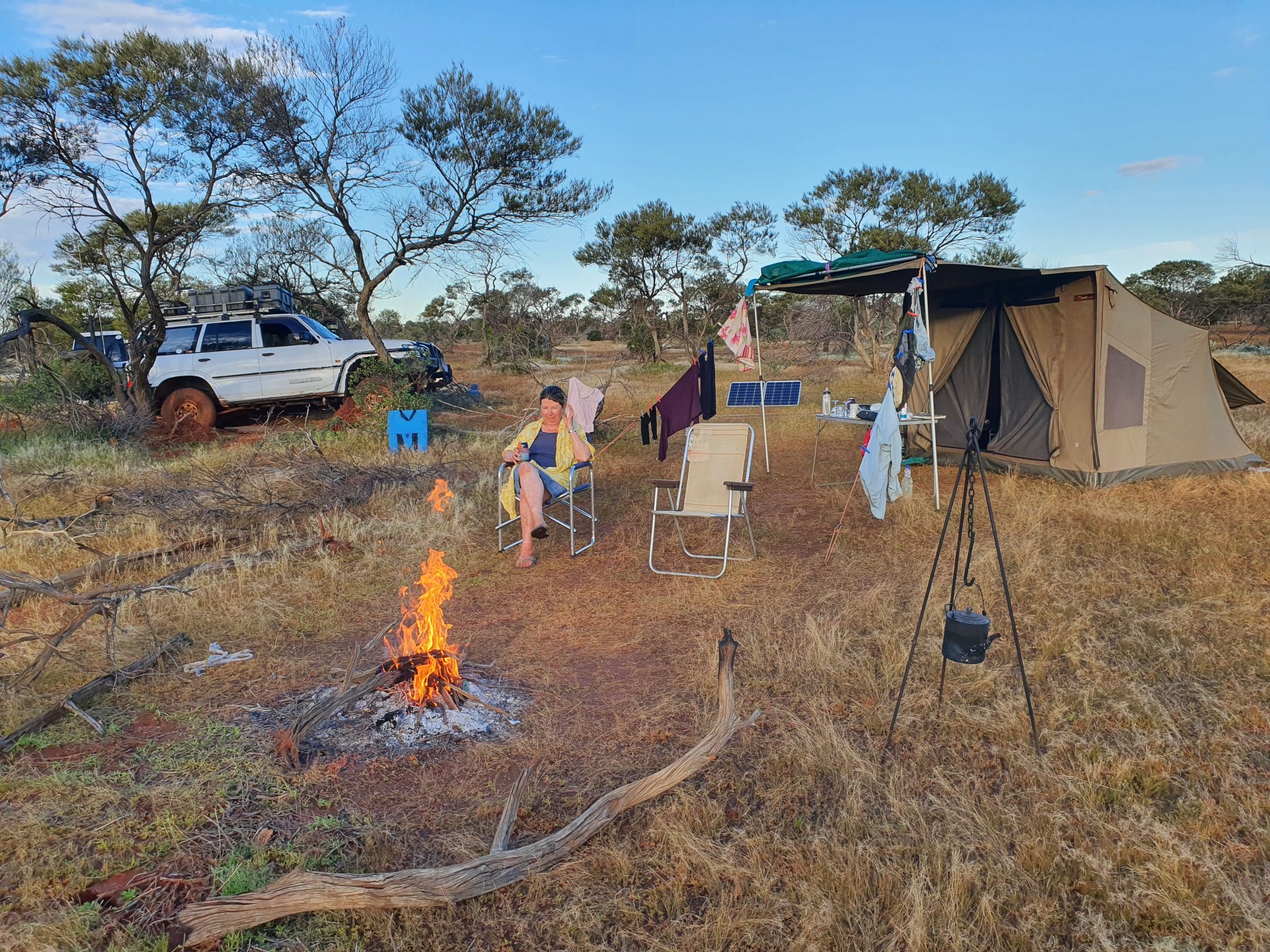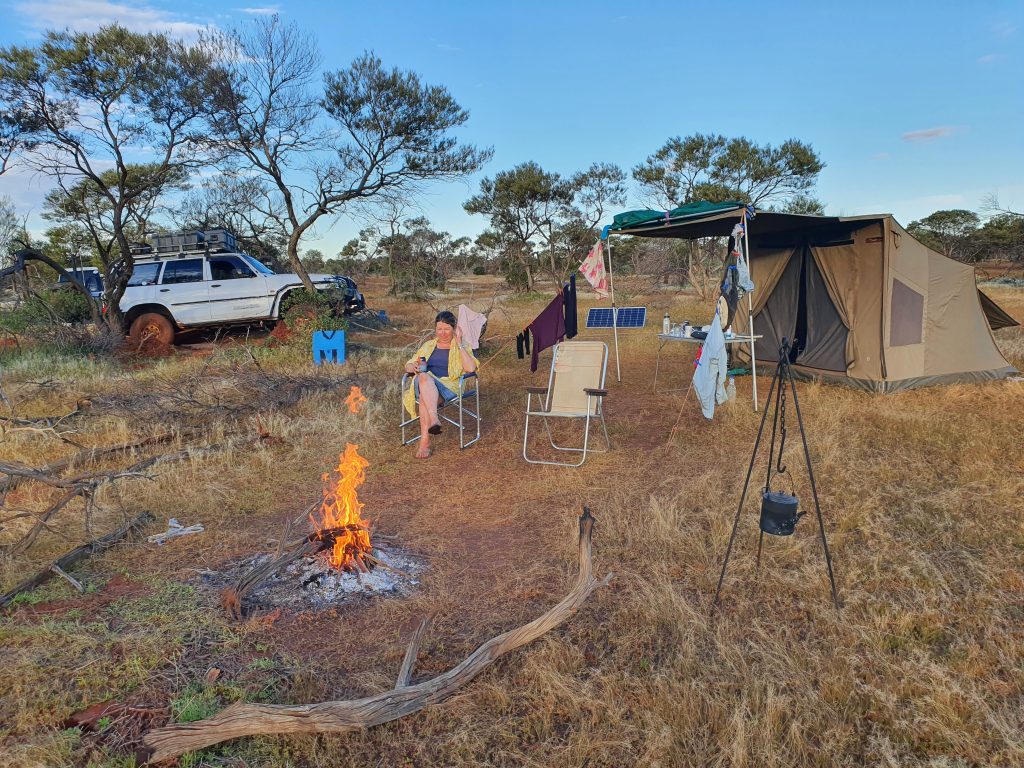 Despite our situation we were lucky. The environment we found ourselves in was a very friendly one, with a lot of cleared ground, scattered trees and plenty of firewood. The place had been de-stocked because of the drought the countryside had been in. Plenty of birds, skinks, incredibly coloured insects that mimicked the wonderful tones of the red dirt country that we were in.
We had a large, fixed water tank in the car and plenty of back-up water along with a big food pantry. We had also stocked up on citrus fruit that we'd purchased earlier at roadside stalls, passing through Bindoon.
Where we were was in earshot of the Main Road, but it wasn't visible. The last car we'd heard was on Saturday morning with nothing since, so we figured the road must have been closed. Where we were, there was no phone reception or internet, so we had nothing other than out trusty HF radio.
With plenty of water around us we did our washing in it, just throwing items in and dragging them around a bit then tossing them onto a tree branch to dry. Likewise cleaning ourselves was done in a similar way.
Tuesday June 1st – Much to our excitement and surprise, the lake where the car was had diminished, but the ground was still saturated and muddy, so we started pacing ourselves for when we thought we might be able to drive the car out and back to the original camp. We came up with the idea over the next few days of how we could plot the car out. Toilet paper! Marking a path on tree branches that looked like it had the best potential.
Thursday June 3rd was the day! That afternoon Terry managed to ease the car out and back to our camp, so that felt like a somewhat of a victory.
At some stage we had decided we had better let our son know what was happening, as we thought we might have to cancel some of our accommodation in Broome in case we were late. Although we had no phone or email reception, we were fortunate to have a HF radio in the car. With Terry being with VKS-737 Radio Network we had reliable communications to report and update our situation and have messages passed to others.
Our co-ordinates were passed by radio. Messages were sent and passed on to our son in Broome, also to our friend Frank (Mobile 2622), home in Bunbury.
Later Thursday afternoon we were walking through the bush to a waterhole to wash our feet when from a distance came a shout. "OY!"
Much to our surprise there were two men walking towards us. They introduced themselves, station owner Andrew and one of his off-siders, Wayne. We asked "How did you find us?" They replied "Through the VKS network and your son Chris in Broome."
Our son had contacted the station owner and asked if he could go and find us. He was so concerned that he was willing to pay for a chopper to locate us.
From that time on station owner Andrew, as well as Wayne and Peter who also joined in from the station made it a priority to try and help. Andrew offered food, water and beer if we needed it. We were fine, we weren't lost, we were comfortable, had plenty of food and water. We were just stuck tight.
Friday June 4 – Station owner Andrew with Wayne and Peter visited again. They brought out bog mats and winch extension straps to use. After about three hours of continual winching and moving bog mats, everyone decided to give it a rest for the day and return the following morning.
We kept contact with VKS-737 throughout this time to update them about the help that had arrived. They were also concerned for our well-being, making it a priority to keep in touch and relay our messages across the network, inquiring if there was any further assistance they could provide.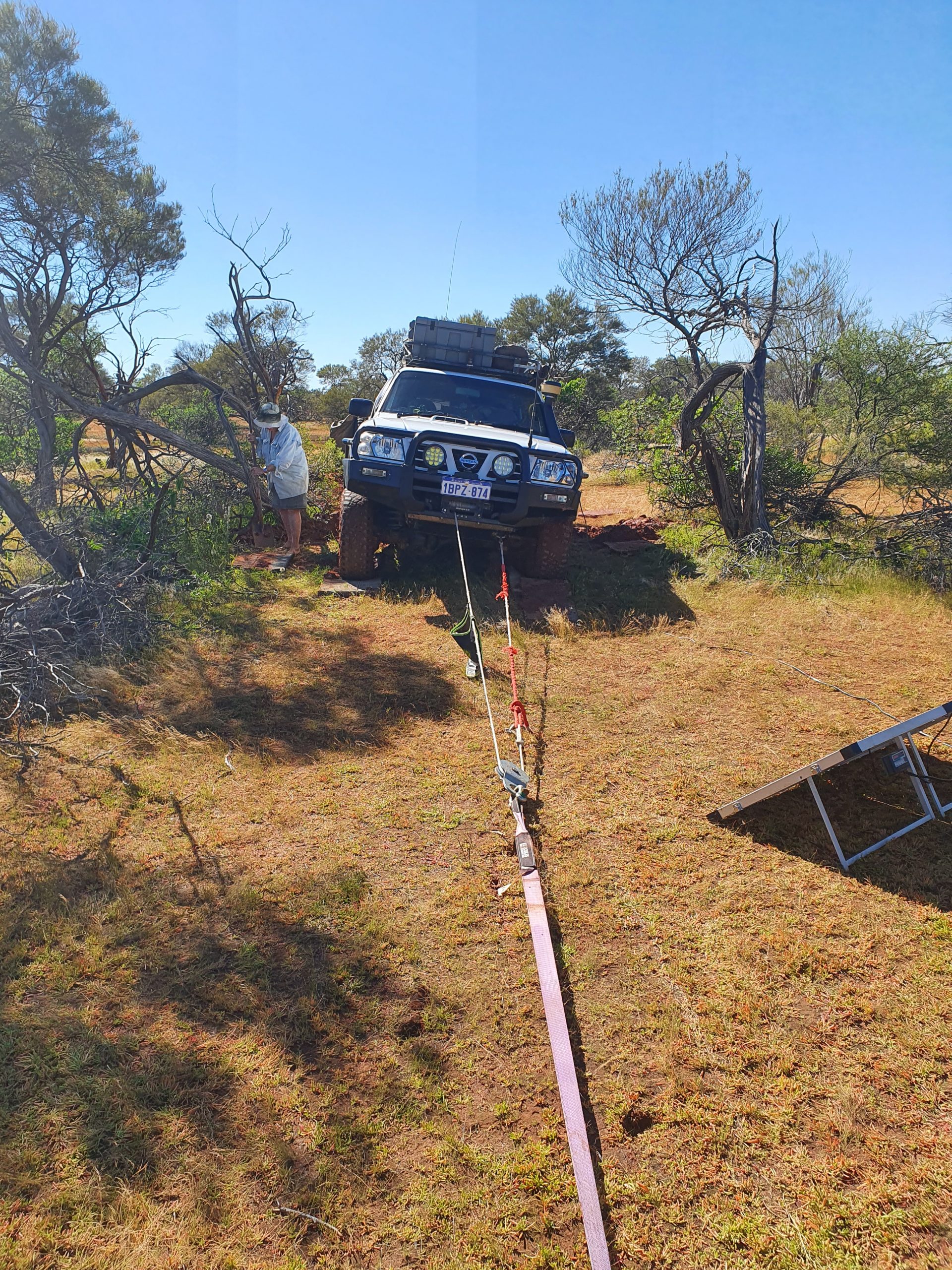 Saturday June 5th – We all had another go, with pretty much the same result and after three hours with numerous breaks in the winch cable, also breaking and repairing our shovel, we made the decision to give it a break and wait a few more days. Rain was forecast next Thursday so we knew we had to be out by then. Andrew offered to put us up at his station, but we decided we wanted to stay in the tent, close to the car.
Sunday June 6th – We spent our time trying to free up all the ground under the car. There was a huge backlog of mud that had wedged itself everywhere underneath the car, putting more stress on the diff, shock absorbers and elsewhere. It was almost like having a grader stuck in the mud. That night we had a message from our friend Frank who called us directly by HF radio to let us know that rain was now forecast for Tuesday.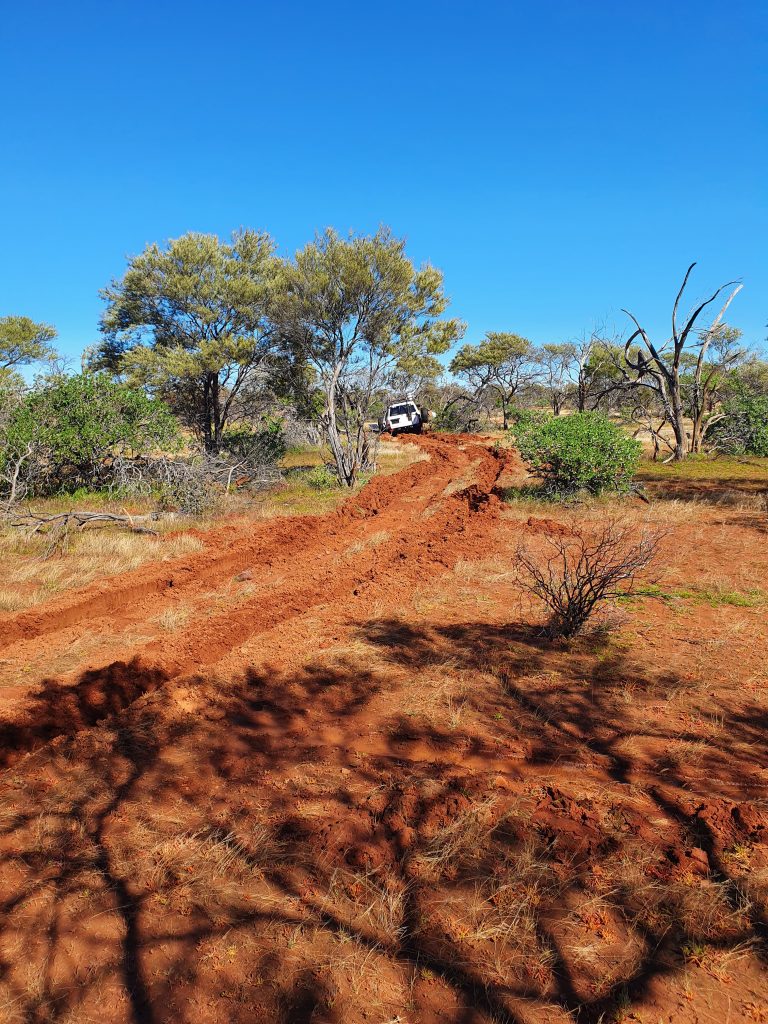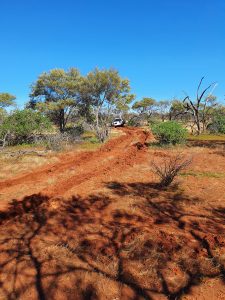 Monday June 7th – This forecast was additionally confirmed from VKS-737 Radio Network. Following our predicament had become a real priority for them with regular contact and support, offering any assistance they could. Station hand Peter came out to visit again to have another go but no luck.
Tuesday June 8th – The wind had been howling all night and we got up at 5am. Still dark, we lit a fire, packed fiddly things in the car while leaving the tent up. We had decided the night before we had to give it a red-hot crack or the car would be stuck indefinitely. We could be on our way home, no car. A miserable end to our trip!
After an hour of winching Terry managed to pull the car onto slightly firmer ground. Barb was walked alongside as the spotter and the lugger of bog mats. As Terry eased it onto firmer ground in low range, keeping up the momentum he managed to drive out, following all the paths we had meticulously plotted with toilet paper over many days. He triumphantly blasted the horn to let me know he was out on the road.
Hooray!!! We'd done it!
With car now parked on the side of the highway we could now head back to our camp, pack up and carry it out the hundreds of metres to the car. As we packed the final things in the car and climbed in the front seats ready to head off, rain started to spot the windscreen and it continued to become heavier.
We were out in just the nick of time.
After all that we continued our journey north. On the way, passing remote locations people enquired about the large antenna that was on the back of the car and how far we could talk with it. Of course, we referred to and enlightened them with the VKS-737 Radio Network.
A HUGE shout out to Tony on Alice Springs Base and to all the other operators of VKS-737 bases across Australia for the most amazing, compassionate and caring volunteer work they do in linking Australia and providing vital communications assistance to the most remote places.
Terry and Barb Stone, Gelorup WA (Mobile 0168)