Kangaroo Island Ambulance Volunteer Mostyn 'Mos' Howard Recognised at Excellence Awards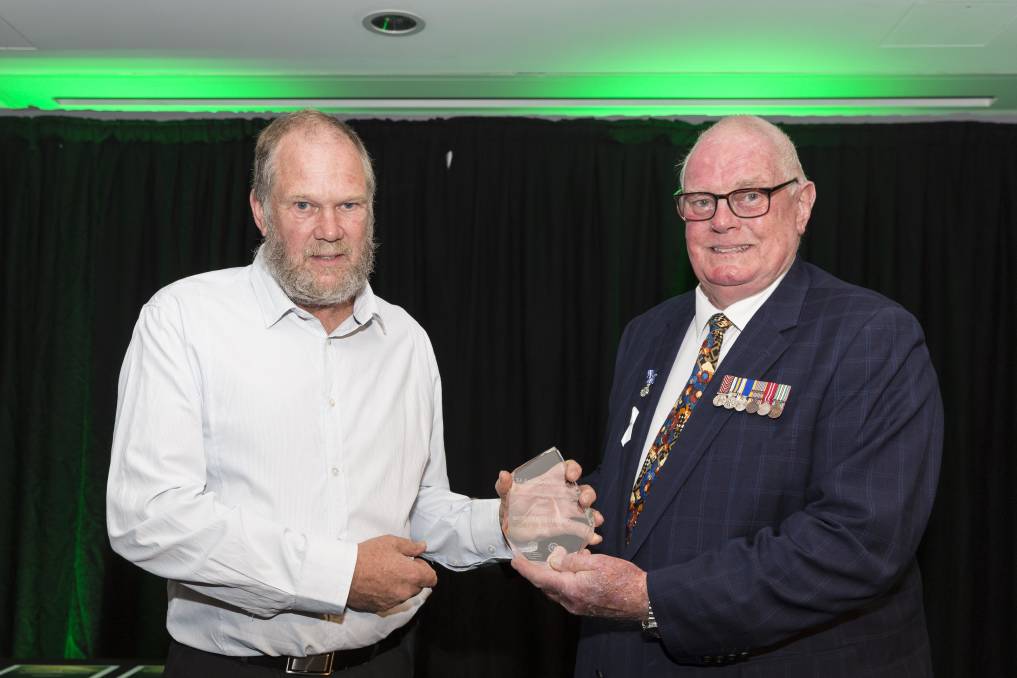 Volunteer Ambulance Officer and VKS-737 Subscriber Mos Howard receiving his Volunteer Distinguished Service Award from SAAS Volunteer Health Advisory Council presiding member Ian Pay
The SA Ambulance Service (SAAS) celebrated a Kangaroo Island volunteer at its recent annual Excellence Awards.
Penneshaw-based Ambulance officer Mostyn "Mos" Howard received a Volunteer Distinguished Service Award in recognition of his exceptional and significant service to SAAS and to his local community over the past seven years.
"I just enjoy helping the community, as much as anything else," Mr Howard said. It was not always life and death, as more often it was about assisting someone through a difficult time or just comforting elderly people going for treatment. "Quite often someone will be reassured when they see it is a local and a face they recognise," he said.
SAAS executive director of country operations, Julia Waddington-Powell said the annual gala event was an important opportunity to recognise those achieving great things. "Every day, SAAS staff and volunteers strive to deliver the best possible patient care to South Australians and, after a challenging year, it's fantastic to celebrate their efforts. Our staff and volunteers are true heroes." Ms Waddington-Powell said.
Mr Howard had worked tirelessly to recruit, train and nurture new volunteers to his local Penneshaw Ambulance Station, she said. "Mos exemplifies the dedication of volunteers in South Australia," Ms Waddington-Powell said. "He has been a significant contributor to the Penneshaw station, often completing up to 10 shifts a week and even responding to emergencies when not on the ambulance roster."
"On several occasions, his early intervention has no doubt saved lives."
"Mos is an immensely respected and valued local leader who continues to willingly provide a high level of service."
"I congratulate Mos on this well-deserved honour and thank him for his continuing dedication and service to SAAS and to his local community."
Mr Howard encourages others to join the service, as being an ambulance officer was very rewarding on a personal level. "I find it very rewarding to know that you've helped someone stay alive or helped them in some other way," he said.
The 2021 SAAS Excellence Awards were held on Saturday, February 27 at the Adelaide Convention Centre.
For more information about becoming an SAAS volunteer on Kangaroo Island, email SAASVolunteer@sa.gov.au
Mos is a Subscriber and regular caller on the VKS-737 Radio Network (Mobile 3583). When not helping people in distress on Kangaroo Island, he and wife Liz run the Fat Beagle Coffee Shop, just a quick walk from where the Kangaroo Island ferry ties up at Penneshaw. When you're on the Island, call in and say hello.
Our thanks to The Islander for permission to reprint this article which ran in March 2021.